VSBLTY is Changing the Face of Measurement with Machine Learning and Artificial Intelligence.
The power of "full-circle" measurement is now possible in any physical location, in real-time, using VSBLTY's unique machine learning through computer vision.
Utilizing advanced optics and sensor technology, all elements of the Path To Purchase are measured by the DataCaptor™ software module, providing objective, real-time, qualitative measurement and analysis in retail and other spaces.
Anonymized & De-Identified Data Collected:
All recurring visitors are supported with full anonymity unless they have opted-in.
People Count (Impressions)
Dwell Time
Interaction Time
Gender
Age Range
Emotional Sentiment
Recurring Visitors
Content Touches
Footfall Traffic & Heat Maps
Optimal Engagement
Using the VisionCaptor™ software module in conjunction with DataCaptor™, retailers have the power to provide interactive brand messaging based on who a camera "sees".
Using Edge and/or cloud-enabled digital display solutions, retailers can enhance the guest experience with proximity-aware, interactive brand messaging triggered by demographic, identity or even sentiment, while simultaneously gaining groundbreaking levels of measurement and actionable insights.
Enhancing Analytics Through Proactive Digital Display™:
Entertainment Venues
Sports Arenas
Transit Hubs
Grocery
Drug & Other Retail Environments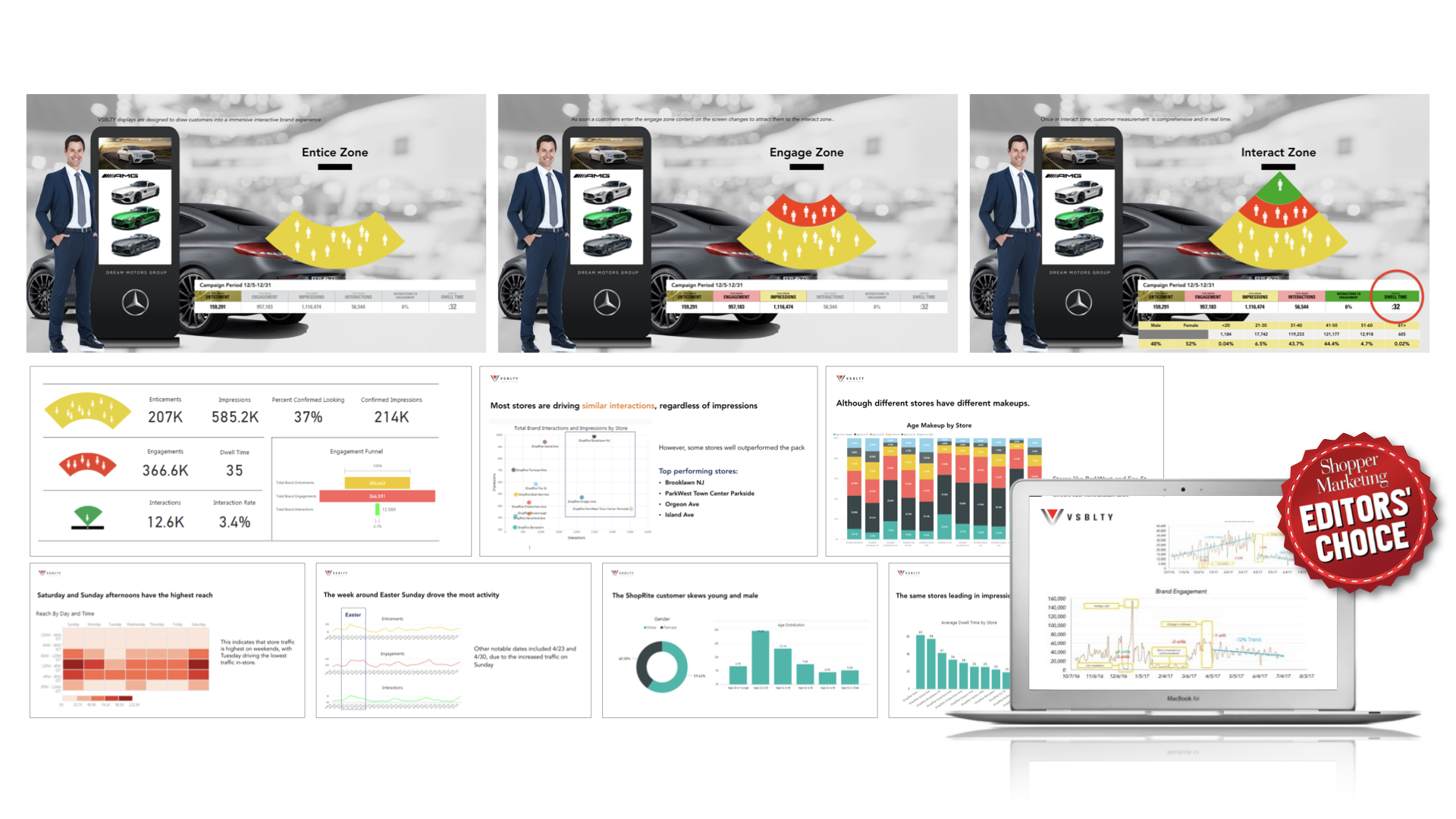 The Analytics Breakthrough
With the addition of advanced Facial and Object Recognition through VSBLTY VECTOR™, guest measurement comes full-circle.
VECTOR's Facial Recognition enables opted-in consumers to receive personalized messaging based on identity.
This means truly comprehensive analytics delivered directly from a physical space to brands and retailers, in real-time, telling the entire story of the customer journey.
This means surpassing what is capable in the world of online, and where it really counts: at the moment of decision.
This means breakthrough analytics with virtually limitless applications.
Advanced Image Analytics:
Facial Detection
Facial Verification
Facial ID
Facial Similarity Detection
Facial Grouping
Facial Verification from Video
Image Analysis
A-List Celebrity Recognition
Text Recognition in Images, Stills & Video
Emotion Detection
Facial Tracking in Video
Beyond Guest Measurement
VSBLTY's object recognition software will assist retailers and brands in a variety of other areas, such as with critical inventory and replenishment analytics using computer vision to identify objects at time of conversion.
VECTOR's industry-leading cognitive APIs enable advanced recognition for faces and other advanced image analytics that are crucial to enhancing today's security capabilities.
All data registered by VSBLTY's DataCaptor™ software module is fully anonymized and conforms with federal and state privacy laws. DataCaptor™ can be used in conjunction with VisionCaptor™ (VSBLTY's CMS), or it can interface with foreign CMS software platforms and be used solely as the analytics and measurement component.