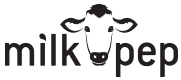 MilkPep Builds Shopper Interest & Sales With VSBLTY Coolers
Background
The Milk Processor Education Program (MilkPEP) is funded by the nation's milk companies and dedicated to educating consumers and increasing consumption of fluid milk. In a recent test in supermarkets in Pennsylvania and New Jersey, MilkPEP teamed with VSBLTY Group Technologies to promote the benefits of milk and determine if customer engagement could increase sales.
The Test
A free-standing upright cooler with a digital screen door was placed in 11 ShopRite supermarkets. The cooler in each store was positioned, not in the dairy section, but in a variety of locations such as the Produce Department. While the coolers contained bottled milk, supermarket customers could not see inside. Instead, the cooler door featured photos, animations, video and multi-media with compelling educational and promotional information. Customers were able to manipulate the content, and engage in a rich, immersive shopper experience through intuitive touch. After engagement with the screen, shoppers were prompted to open the cooler. It was not until the door was opened were customers aware that it contained milk.
Featured Prodcuts
Key Learnings
The MilkPEP cooler deployment provided useful and promotional information about the many benefits of milk and resulted in stemming the decline in retail sales year-over-year, while the supermarket was able to drive increased sales when compared to locations without the deployment (e.g. Dairy case).
MilkPEP garnered 996,843 retail impressions, 15,301 cooler engagements and shoppers spent an average of more than 30 seconds engaging with the cooler screens. For ShopRite management, VSBLTY produced an in-depth look at the store traffic for each location, surfacing never before seen insights on the demographic and psychographic makeup of shoppers in each location. Information gleaned from the VSBLTY technology included age, gender, location and dayparts. Point-of-purchase data on consumer traffic, engagement, dwell time and interactions were captured and delivered in real-time.